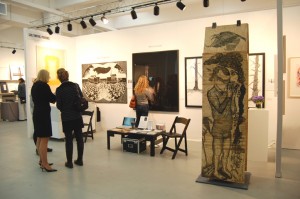 2010 Editions and Artists Book Fair
Center 548
548 West 22nd Street
Friday November 5 and Saturday November 6, 11AM to 7PM
Sunday November 7, 11AM to 4PM
Free admission
Founded in 1998 by Susan Inglett of I.C. Editions and Brooke Alexander Editions, the Editions|Artists' Book Fair has grown in size and stature to become the premier showcase for contemporary publishers and dealers, presenting the latest and greatest in prints, multiples and artists' books. The Editions|Artists' Book Fair is well known for its vibrant energy and innovation, thanks to over sixty exhibitors, presenting hundreds of artists representing New York, Johannesburg, Amsterdam, London, Paris and points in between. The Editions|Artists' Book Fair was the first fair to offer FREE admission, initiated with the intent of introducing a broader public to the medium of prints, multiples, and artists' books. Thirteen years later the Fair continues to do just that.
The 2010 Editions and Artists Book Fair will also preview a special edition by American conceptual artist BARBARA KRUGER. A founding member of the Pictures Generation, Kruger continues to challenge our assumptions by pairing images and texts in provocative and enlightening ways. The limited edition will be available in an edition of 200 for $200.00 and may be purchased only on site by cash or check. Credit cards will not be accepted. The Kruger image will appear also on the covers of the E|AB catalogue which will be distributed FREE at the Fair.
Join us for the opening night preview Thursday November 4th from 6 to 9 PM to get a first look at the latest in contemporary publishing while enjoying a glass of champagne and an extraordinary view of the Hudson River from the rooftop lounge. Attendance will assure an opportunity to purchase the highly sought after E|AB commissioned print which subsidizes FREE general admission during the run of Fair. Tickets are $20.00 and may be purchased at the door.
For further information, please contact Susan Inglett/I.C. Editions, Inc. at 212.647.9111 or Barbara Baruch/Brooke Alexander Editions at 212.925.4338 or via email at info@eabfair.com.