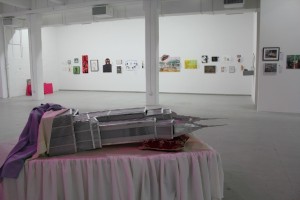 Flux Factory Benefit Auction and Gala
Wednesday, December 15th
Center 548
548 West 22nd Street
Doors open at 7pm, auction ends at 10pm, with performances and dancing to follow.
The auction will feature work by cutting-edge artists – including Mika Rottenberg, Bo Bartlett, Swoon, and Andrea Geyer, among many others – all for sale by silent auction to the highest bidder, as well as customized " knockoffs" of works. Knockoffs will be created on demand for those who can't afford the real thing while you watch.
Benefit Committee:
Anne Barlow (Art in General)
Denise Carvalho (IDSVA)
Michael Connor (Marian Spore Gallery)
Richard Hendricks (ArtSTAR)
David Kesting (Christina Ray Gallery)
Nicole Klagsbrun (Nicole Klagsbrun Gallery)
Carin Kuoni (The New School)
John Leo (Fountain Art Fair)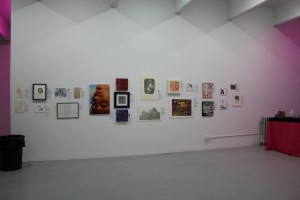 Jill McDermid (Grace Exhibition Space)
Claire Oliver (Claire Oliver Gallery)
Azra Raza, and more.
Participating Artists:
Blanka Amezkua, Nadia Awad, Brian Balderston, Bo Bartlett, Lauren Bergman, Shawn Bishop-Leo, Mirelle Borra, Kadar Brock, Matt Bua, Paul Butler, Gigi Chen, Donna Cleary, Dan Colen, Katie Commodore, Brendan Coyle, Lisa Dahl, Daupo, Debby Davis, Brian Dewan, Patrick Dintino, Chris Domenick, Eteam, Nicholas Fevelo, Lori Field, Lauren Fleishman, Brandon Friend, Andrea Geyer, Stefany Anne Golberg, Greg Haberny, Michelle Handleman, Takashi Horisaki, Aya Kakeda, Shirley Klinghoffer, Kristian Kozul, Natalie Lanese, Brian Leo, Dana Levy, Michelle Levy, Scott Lewis, Marie Lorenz, Heather Macionus, Francesco Masci, Jesse McCloskey, Colin McMullen, Ryan McNamara, Paul Moakley, Rudolph Montanez, John Monteith, Jazz-minh Moore, Keren Moscovitch, Laura Napier, Joe Heaps Nelson, Katherine Newbegin, Trong Nyguyen, Leah Oates, Don Porcella, Yvonne Porcella, Mark Price, Jory Rabinovitz, Øyvind Renberg and Miho Shimizu, Leonora Retsas, Mika Rottenberg, Jose Ruiz, Ray Sell, David Shapiro, Matthew Sleeth, Juliana Smith, Chris Stain, Swoon, Molly Surno, Tattfoo Tan, Gabriela Vainsencher, Alex Villar, Amy Westphal, Marion Wilson, and more to come!
Tickets:
$40 Les Cash (Individual ticket)
$100 Donorsaurus Rex (VIP ticket, gift of limited-edition canvas bag)
$250 Daddy Fluxbux (Committee ticket, gift of canvas bag and limited-edition artwork)
$1000 Andre the Giant Donor (Sponsor ticket, gift of pre-selected original artwork)
All tickets are tax-deductible. Tickets can also be purchased by check to:
Flux Factory
39-31 29th Street
Long Island City, NY 11101