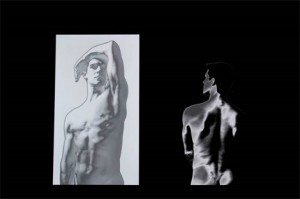 Special exhibitions and events presented by FederlegnoArredo/Cosmit and ITC (The Italian Trade Commission) to kick off worldwide celebration of Italian Design in honor of the 50th Anniversary of the Milan Furniture Fair
20 Italian Furniture Showrooms to participate in "Italian Design Street Walking",
December 1st, 2010 – January 8, 2011
Robert Wilson to pay homage to the beauty of Italian design with exhibition featuring renowned Italian ballet dancer Roberto Bolle at Center 548, December 1st– December 18, 2010
and FederlegnoArredo/Cosmit to proudly support Peter Greenaway's acclaimed video installation of Leonardo's Last Supper to make its U.S. debut presented by Park Avenue Armory, December 3, 2010 – January 6, 2011
Milan & New York, October 15th, 2010 – I Saloni Milano in New York will celebrate the excellence of Italian Design with a series of special exhibitions and cultural events throughout New York City this holiday season. The extraordinary 6-week program, including dynamic multi-media art installations by renowned artists Peter Greenaway and Robert Wilson and festive events by 20 of the leading Italian Furniture Showrooms throughout the city, will pay homage to the quality, innovation and beauty for which Italian Design has long been known.
The program will run from Monday, November 29, 2010 – Saturday, January 8, 2011.
The program, presented by FederlegnoArredo (the Italian Federation of wood, cork, furniture and furnishing manufacturers), COSMIT, the organizer of the Milan Furniture Fair since 1961, ITC (Italian Trade Commission), and the Italian Ministry of Economic Development, will shine a light on the long tradition of craftsmanship in Italian Design, one of the highest expressions of Italian Culture and also among the most exported of Italian products worldwide.
This special series of exhibitions and events honoring Italian Design will inaugurate a yearlong worldwide celebration of the 50th Anniversary of I Saloni, known familiarly in the U.S. as the Milan Furniture Fair.
I Saloni, widely recognized as the world's largest and most important annual exposition of international design with over 300,000 visitors annually, will mark its anniversary during the fair, from April
"We are thrilled to share such beautiful expressions of Italian creativity and culture with the City of New York. As the creative capital of the world, we could think of no better place to begin our yearlong celebration of Italian Design," said Carlo Guglielmi, President of COSMIT.
The program will open the week following Thanksgiving with Italian Design Street Walking – a self-guided tour of Italian Design featuring 20 of the leading Italian furniture showrooms in the city. On Monday, November 29th, the celebration will kick off with an opening night party across the 20 showrooms, featuring a taste of Italy from Eataly.
The inaugural week will continue with the opening of artist and avant-garde director Robert Wilson's Perchance to Dream, an exhibition in collaboration with internationally renowned Italian ballet dancer Roberto Bolle, Etoile at La Scala ballet and principal dancer with American Ballet Theater in New York City. The exhibition transforms half century of iconic objects of design into objects of desire and will be on view to the public at Center 548 in Chelsea from Tuesday, November 30thst – December 18th, 2011.
The week's events will culminate on Thursday, December 2nd, with an invite-only gala opening party at the Park Avenue Armory where British artist and filmmaker Peter Greenaway's stunning video installation
Leonardo's Last Supper – presented by Park Avenue Armory – will be revealed for the first time in New York since it was originally presented at Milan's Salone del Mobile in 2008 in a new version specially designed for this extraordinary space. The full scale light, sound and video projection that brings DaVinci's and Veronese's The Wedding at Cana to life will be on view to the public from December 3rd, 2010 – January 6, 2011.
"We are proud to come to the United States with such a worthwhile project, offering our businesses the
opportunity to promote the Italian home furnishing system in the American market – a strategic market for Italy, that today amounts to 551 million euros in exported furnishing products," said Rosario Messina, President, FederlegnoArredo. "This is why we have great hopes for the upcoming events, confident that we will be able to spark a process of recovery and growth, of which there have already been tentative signs in recent months. Our presence in Manhattan with the circuit of Italian showrooms and cultural initiatives curated by two great artists, Greenaway and Wilson, represents Italy's system of combining product with artistic expression, two ways of interpreting the excellence of 'Made in Italy'."
"The Ministry of Economic Development (MISE) and the Italian Trade Commission (ITC) are delighted to participate in collaboration with FederlegnoArredo and COSMIT in this project that will highlight the excellence of Italian design in the furniture and lighting industry," said Mr. Massimo Mamberti, General Director of the Italian Trade Commission.
Details on each of the three major events that make up I Saloni Milano in New York follows:
Italian Design Street Walking
Dates: November 29, 2010 – January 8, 2010
Opening Night Party: Monday, November 29th, 2010, 6 – 9 pm **OPEN TO THE PUBLIC**
Locations: Various locations – please visit each company's website for their New York City address
Italian Design Street Walking will kick off on Monday, November 29th with a fabulous party across 20 Italian Furniture Showrooms in collaboration with Eataly. Open to the public, guests will have a chance to hop from showroom to showroom, toasting the holiday season with a taste of Italian food and wine, while experiencing the best Italian design New York City has to offer.
Honoring the excellence of Italian design, the celebration will continue throughout the showrooms throughout the month of December with an exciting program of special events and promotions. Stay tuned for more details!
Prominent shop window banners will identify the 20 showrooms on the "circuit" to guide visitors on their walking tour of "hot spots" of Italian Design throughout the city.
The following Italian Furniture Showrooms will participate in the program:
Artemide Flou La Murrina Pedini
B & B Italia FontanaArte Lualdi Poliform – Varenna
Boffi Giorgetti Luceplan Poltrona Frau
Cesana Glas Italia Matteograssi Scavolini
Flos Kartell Molteni & C – Dada Tre P & Tre Piu
Robert Wilson / Roberto Bolle
Perchance to Dream
A project of Change Performing Arts
Dates: November 30th – December 18th, 2010
Location: Center548 – 548 West 22nd Street, NYC
Free admission
Opening Reception, by invite only, Wednesday, November 30th, 2010
Acclaimed playwright, director and artist Robert Wilson will create a special installation that combines the beauty of the human body with that of functional design. A series of video portraits featuring famed Italian ballet dancer Roberto Bolle in a visual landscape of actual and iconic works of design from the last 50 years. This heightened emotional and strikingly contemporary video-art installation will serve as a spur for the viewer to reflect on the history and beauty of Italian design.
Park Avenue Armory presents
Leonardo's Last Supper by Peter Greenaway
A project of Change Performing Arts
Dates: December 3rd, 2010 – January 6th, 2011
Location: Park Avenue Armory – 643 Park Avenue, NYC
See details at www. Armoryonpark.org
Grand Opening, by invite only, Thursday, December 2nd, 2010
Presented with great success during the Saloni two years ago, the surprising Leonardo's Last Supper by Peter Greenaway will be shown in the U.S. for its first time at the Park Avenue Armory, giving the public a rare opportunity to experience the renowned British artist and filmmaker's provocative interpretation of Da Vinci's masterwork. Utilizing sophisticated digital technology and craftsmanship FactumArte has created a perfect copy of one of the world's most celebrated and sacred paintings – a clone in size, color, characteristic, and artistic expression. The masterpiece comes to life before the visitor's eyes thanks to projections of images and light that seem to spring from the original painting, accompanied by a journey into Italian renaissance arts including a ravishing finale into the ebullient painting Veronese's The Wedding at Cana.
Art, cinema, poetry, music and cutting-edge technologies will carefully blend together to transform a 500 year-old works of art into a deeply emotional multimedia experience.
For more information on I Saloni Milano New York or images, please contact:
Culture & Commerce, Inc.
Sarah Natkins
Director of Marketing & Communications
snatkins@culturecommerce.com / +1 212 842 1509